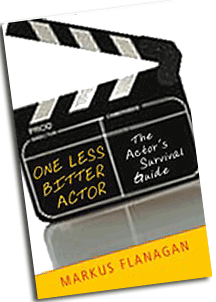 Every would-be actor wishes he or she had the mysteries of the entertainment business explained to them on day one. But only seasoned actors can look back over their career to finally understand how casting decisions are made and what rejection really means. Now a veteran of stage and screen tells all in this invaluable reference for anyone who wants to become a working actor.
One Less Bitter Actor: The Actor's Survival Guide covers everything that author Markus Flanagan wishes someone had told him about the business and much more. Here you will find encouraging and highly useful pointers on matters like behavior on a production set and managing the few things that are actually within our control as actors.
Learn how to stay sane and focused while attempting to manage the merge of art and commerce in the day-to-day business of auditioning and acting. One Less Bitter Actor offers sage, pragmatic, anxiety-calming advice on questions like:
How do you avoid getting typed?
For whom are you auditioning?
Which bad habits should I avoid in the audition waiting room?
What are they looking for in my callback?
One Less Bitter Actor comes from Markus's wish that someone had explained to him all the things that are not covered in most acting books and rarely discussed among actors themselves.
Buy your own copy of the book using Paypal.