Markus Flanagan is bringing his Meisner Technique First year acting class to North Hollywood. This class meets once a week, Wed 10am-1pm, and will run monthly until June.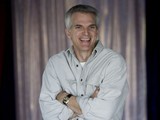 Markus Flanagan, a career actor, teacher and author of "One Less Bitter Actor" will be teaching the First Year Meisner technique they way Mr. Meisner taught him at the Neighborhood Playhouse, so it is a pure version of the technique. This class is for actors with professional ambitions only, this is not for hobbyists.
The class will meet once a week, Wednesday mornings- 10am-1pm (additional times can be added depending on demand, please let us know if evenings suit you better). You will be required to meet with classmates during the week on your own time to practice the exercises. The location is being sought but it will be in N. Hollywood. We will begin mid February.
Class will follow the classic Neighborhood Playhouse Meisner technique as was taught to Markus by Mr. Meisner and the Playhouse staff. Markus has been teaching the two-year technique for 15 years in Santa Monica and Thousand Oaks privately, as well as being the faculty Meisner teacher at Cal Lutheran University. He has led Meisner Master classes in London, Dublin, Manchester and Bristol. His book "One Less Bitter Actor" has become a staple in the acting book sphere.
Markus teaches the technique in a way that makes clear how practical it is to the working actor by using many examples from his own 30 year acting career. He continues to pursue acting work and you can see him right now in The Morning Show and Better Things.
You've surely heard plenty and read plenty about the Meisner technique and why it's a great system for actors to grow by, but to reinforce this, here is what you can count on from the class- Working from your authentic point of view. Becoming a better listener and communicator. Working one moment at a time WITHOUT anticipating. Building and trusting your sense of truth. Doing everything with reality.
Class will be $225 a month. Please register here and you will get an email to set a time for a phone call interview. This is not an audition, not everyone is suited to every technique, the call is just fact finding to see if this technique is a fit with your goals.