Markus Flanagan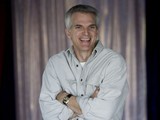 Markus Flanagan organized Westlake Acting Studio and teaches both the Meisner technique and commercial classes. Markus's started his career at The Neighborhood Playhouse School of the Theatre in New York (where he was lucky enough to be in one of the last regular classes with Meisner Technique founder Sanford Meisner). His 30-year career includes stage roles like the New York production of Bus Stop (which later traveled to London) and the premiere of Lee Blessing's Down the Road at the Humana Festival in Louisville, Kentucky.
Markus has been a regular in film and television too, as a series regular on ABC, NBC and Nickelodeon and over fifty guest star appearances on Seinfeld, Friends, CSI, NCIS, Malcolm in the Middle and many more. His top-billed film roles include Biloxi Blues. Markus has also directed episodic TV for Nickelodeon.
As a writer, Markus has also had seven of his stage plays produced and Fox and Hallmark have purchased his spec feature screenplays. Not least, he authored One Less Bitter Actor, a handbook for actors trying to make it today. The book is constructive dialog from a career working actor with smart advice on the daunting task of reconciling the actor's ego with the harsh edge of show business.
In addition to directing the Westlake Acting Studio, Markus currently teaches at California Lutheran University and lectures to promising actors at theater programs all over the country. Watch Markus Flanagan on Good Morning Colorado discussing his experience in the industry. Find him on the Internet Movie Database.
Recently Markus taught Meisner Masterclasses in Dublin, London, Manchester and Bristol.
Kevin Repich
Kevin Repich teaches the improv class at Westlake Acting Studio, he has a B.A. in theater arts from Cal Lutheran University where he was a member of the Improv troupe and has since studied at Groundlings and is a member of their Saturday performance group.
---
Have a question about Westlake Acting Studio? Please get in touch!