Markus Flanagan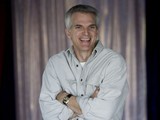 Markus Flanagan organized Westlake Acting Studio and teaches both the Meisner technique and commercial classes. Markus's started his career at The Neighborhood Playhouse School of the Theatre in New York (where he was lucky enough to be in one of the last regular classes with Meisner Technique founder Sanford Meisner). His 25-year career includes stage roles like the New York production of Bus Stop (which later traveled to London) and the premiere of Lee Blessing's Down the Road at the Humana Festival in Louisville, Kentucky.
Markus has been a regular in film and television too, as a series regular on ABC, NBC and Nickelodeon and over fifty guest star appearances on Seinfeld, Friends, CSI, NCIS, Malcolm in the Middle and many more. His top-billed film roles include Biloxi Blues. Markus has also directed episodic TV for Nickelodeon.
As a writer, Markus has also had seven of his stage plays produced and Fox studio has purchased a spec feature screenplay. Not least, he authored One Less Bitter Actor, a handbook for actors trying to make it today. The book is constructive dialog from a career working actor with smart advice on the daunting task of reconciling the actor's ego with the harsh edge of show business.
In addition to directing the Westlake Acting Studio, Markus currently teaches at California Lutheran University and lectures to promising actors at theater programs all over the country. Watch Markus Flanagan on Good Morning Colorado discussing his experience in the industry. Find him on the Internet Movie Database.
Lisa Fredickson
Lisa Fredickson teaches the improv class at Westlake Acting Studio. She has been an ensemble member of many improv companies (including Seattle Theatresports, SAK Comedy Lab Orlando, Disney's Comedy Warehouse, the Improv Theatre, and Inflatable Betty). Lisa is also a veteran of stage and television. She was an original cast member of Fellowship: The Musical in Los Angeles and performed at the Colorado Shakespeare Festival. Her TV credits include Greek, Desperate Housewives, and The Tick. You've seen her in numerous television commercials – usually typecast as an uptight mother!
Lisa is currently the resident improv teacher at California Lutheran University and is concurrently studying Spiritual Psychology in a masters degree program. She is married to an amazing banjo player and she loves babies…and banjos…and babies who love banjos!
Jillian Bennett
Jillian Bennett teaches stand-up comedy at the Westlake Acting Studio. With more than two decades of performance experience, Jillian Bennett is a comedienne whose work has taken her across the country and onto television in appearances on ABC, CBS, FOX, NBC, USA, Lifetime, and Comedy Central. She is also a veteran radio-broadcaster having worked on both coasts – first at WNBC (in New York) and later as a morning drive-time radio personality on Q106 and Z90 (in San Diego).
When Jillian is not performing, she pens comedic screenplays and factual entertainment projects. She can also be seen at theatrical venues performing her autobiographical one-woman show titled I Hate the Elderly.