How To Audition for Film and TV
in Los Angeles & New York
July, 6-7 2019
Learn critical audition skills for the American market that will make you immediately stand out from other actors. During this two-day, 10-hour seminar you will learn valuable secrets that usually take actors years to learn that will prepare you to audition in New York and Los Angeles. You will be filmed performing TV, film, and commercial auditions. During playback, you will be given notes for improving your audition and learn how best to present your work to casting directors.
Your teacher, Markus Flanagan is a 30-year career Hollywood actor and author of One Less Bitter Actor: The New Actor's Survival Guide.
He will teach you:
The three things you can control in an audition
How to stay mentally strong
The two things every actor must have to build and maintain a career
How to handle the two most deadly questions asked at auditions
Where having insecurity is good and where it is bad
Why being new isn't a bad thing
What makes some people artists and others just acting enthusiasts
Why auditioning is the opposite of acting
How to reframe rejection so it doesn't kill you
Workshop Schedule
July 6 & July 7
10:00 AM -12:30 PM, Lunch, 1:30 PM – 4:00 PM
Cost €180
Reservations will hold seats but the workshop must be paid in full by June 15th.
Location
Momentum Studios
9 Lombard Street
East, Dublin 2
More About The Instructor's Education & Credits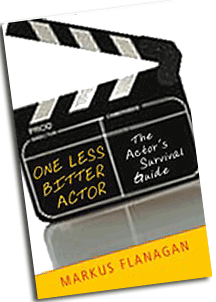 Markus Flanagan studied with the legendary Sanford Meisner at The Neighborhood Playhouse in New York City. He was one of the youngest actors ever to graduate from Meisner's program. He has been teaching the technique at his school, The Westlake Acting Studio for 15 years the way Mr. Meisner taught him. He is also a faculty member at California Lutheran University where he has taught for eight years.
Markus Flanagan's book is a standard for American actors. His workshop will introduce you to the mindset, skills, and format that all working actors need to understand to get acting work in the US.
QUESTIONS?
Working Actor
Markus has appeared in over 140 TV episodes, 10 movies, and many plays. He is most recently seen in season 3 of Better Things and upcoming in The Morning Show.
Praise for His Book, One Less Bitter Actor
"I wish I had this book when I was swimming upstream at the beginning of my career. The advice about on-set behavior is especially useful. This book will help anyone who reads it."
–Carol Burnett
"One Less Bitter Actor puts down in writing every good habit every actor should have. I have seen bitterness sour the best of them. It might also be titled One Much Better Actor because if you take this book to heart you're sure to put your best work out."
–Denise Chamian, casting director
"I've had three great teachers, Jake Gyllenhall, Paul Bettany, and Markus Flanagan."
–Austin Nichols (Ray Donovan)
A Two-Day Workshop in Dublin
Sign up today!